GLASTONBARRY FESTIVAL 2024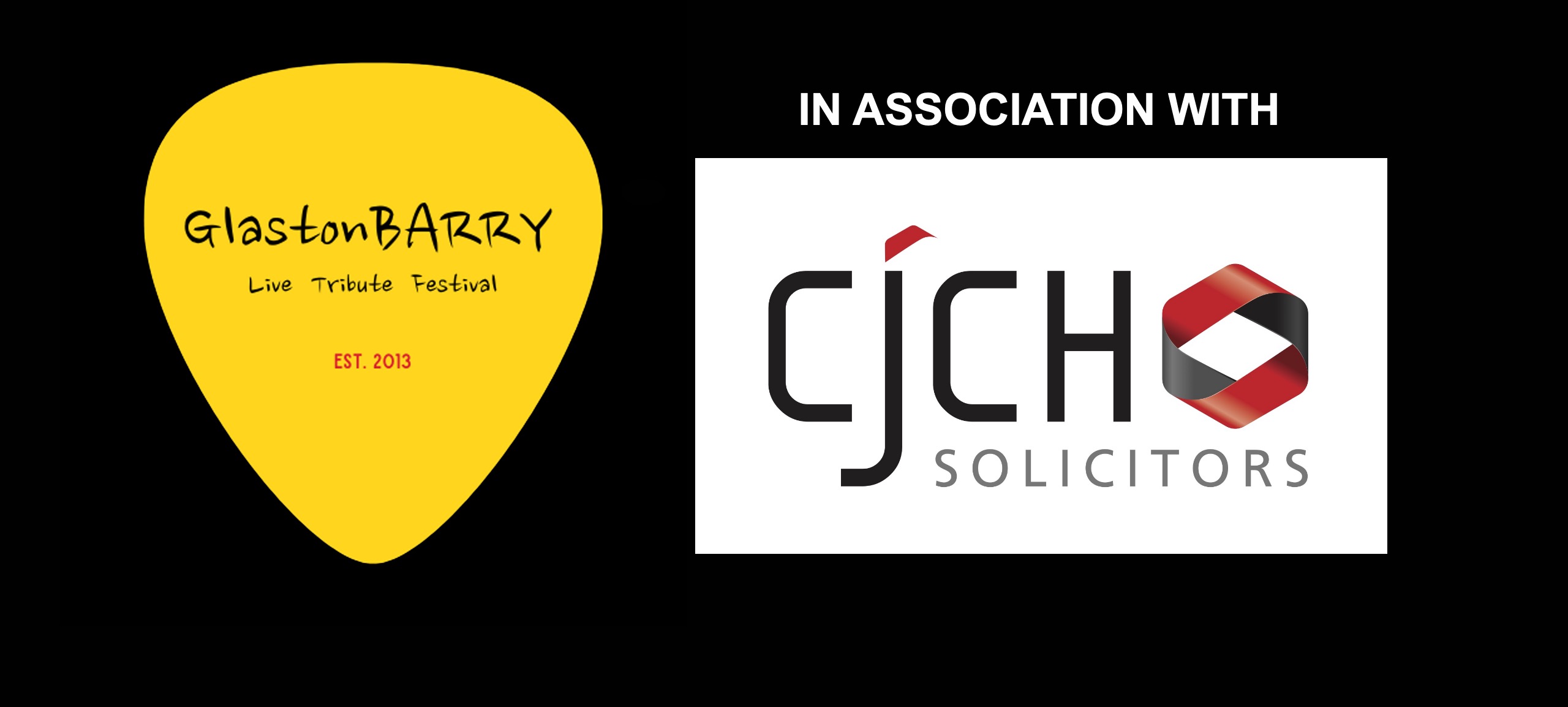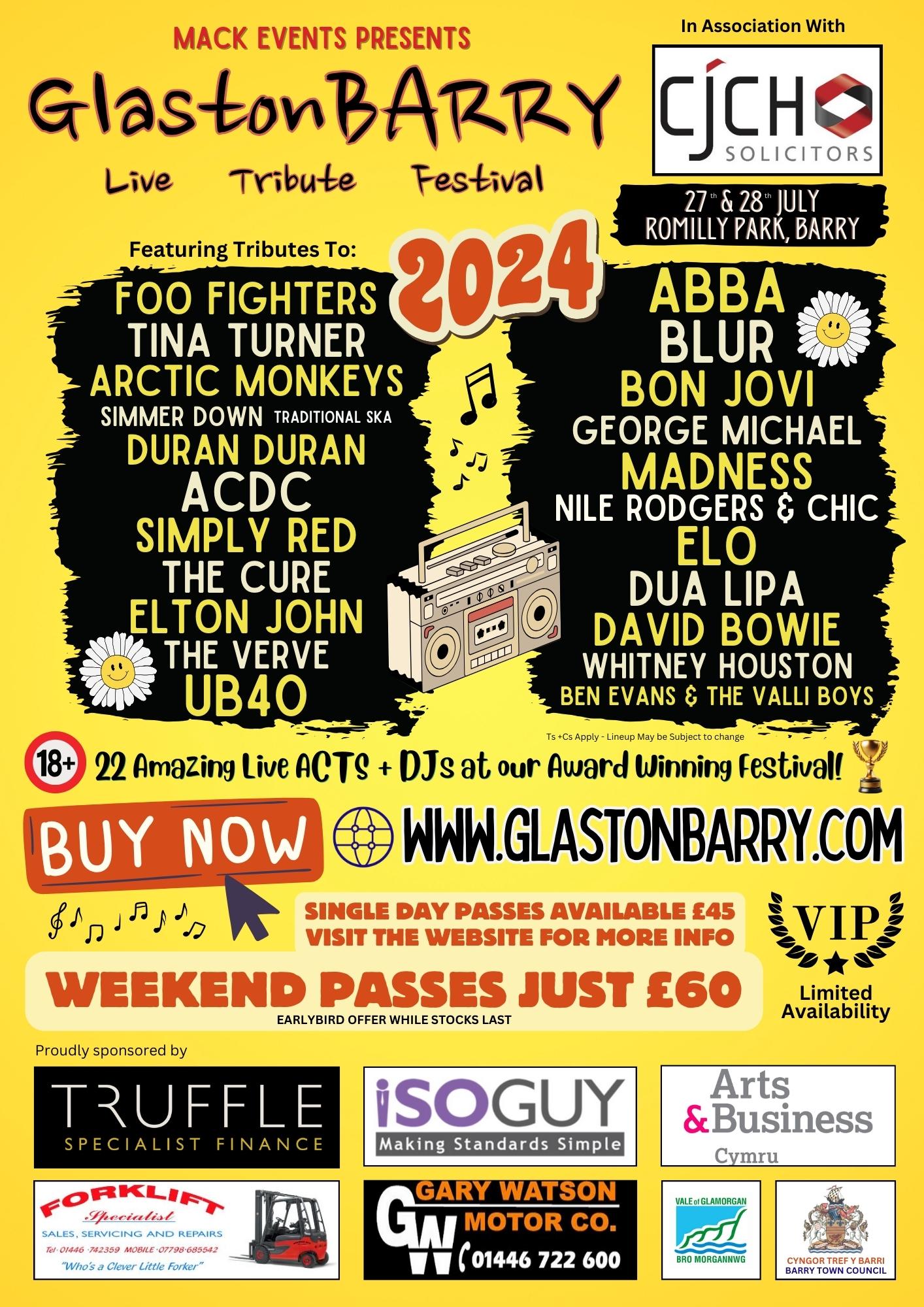 CLICK BELOW TO PURCHASE TICKETS / FIND OUT MORE
SATURDAY 27th July 2024
SUNDAY 28th July 2024 
SATURDAY 27th & SUNDAY 28th July 2024 
FRIDAY 26th, SATURDAY 27th & SUNDAY 28th July 2024 
PROUDLY SPONSORED BY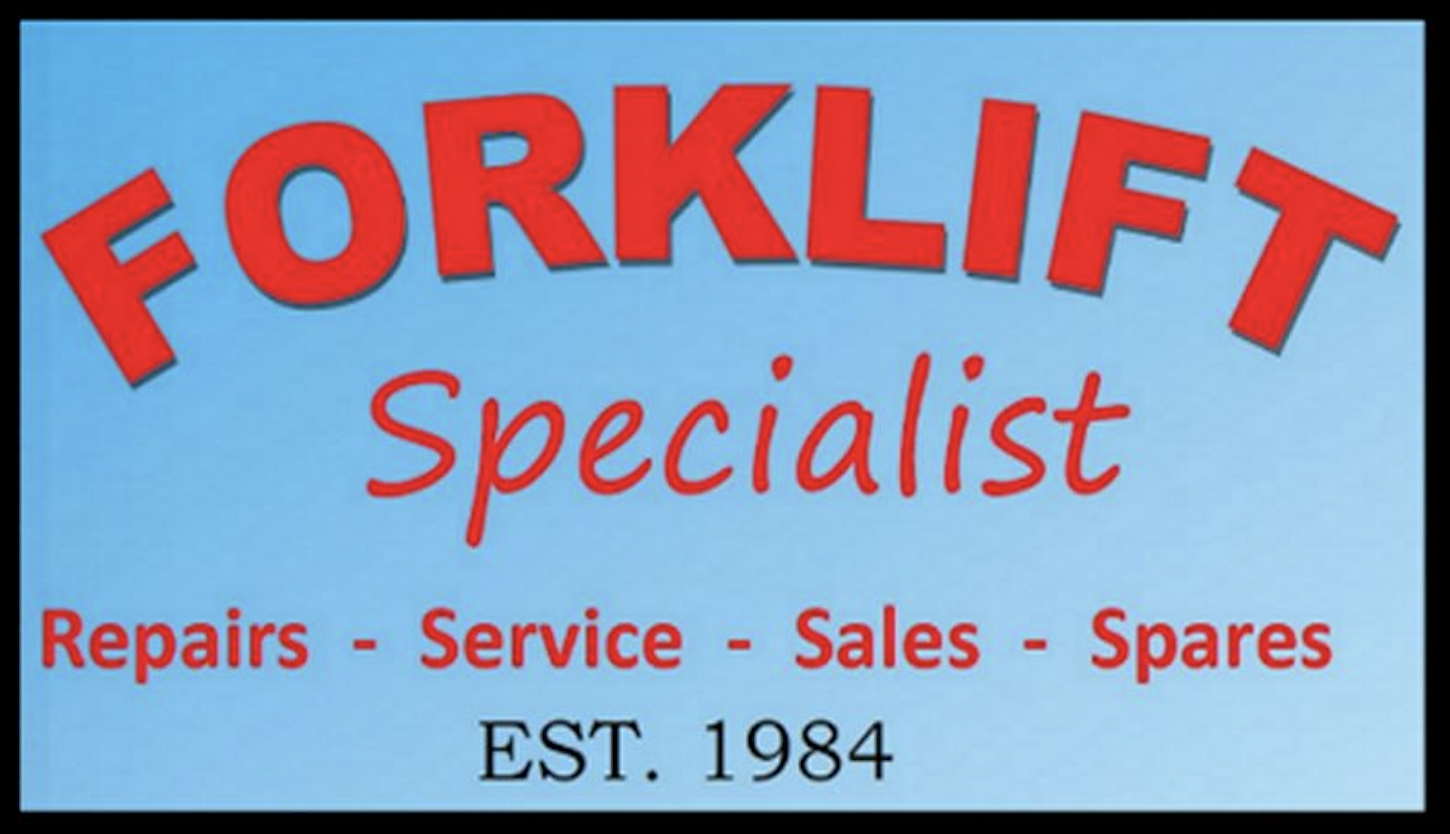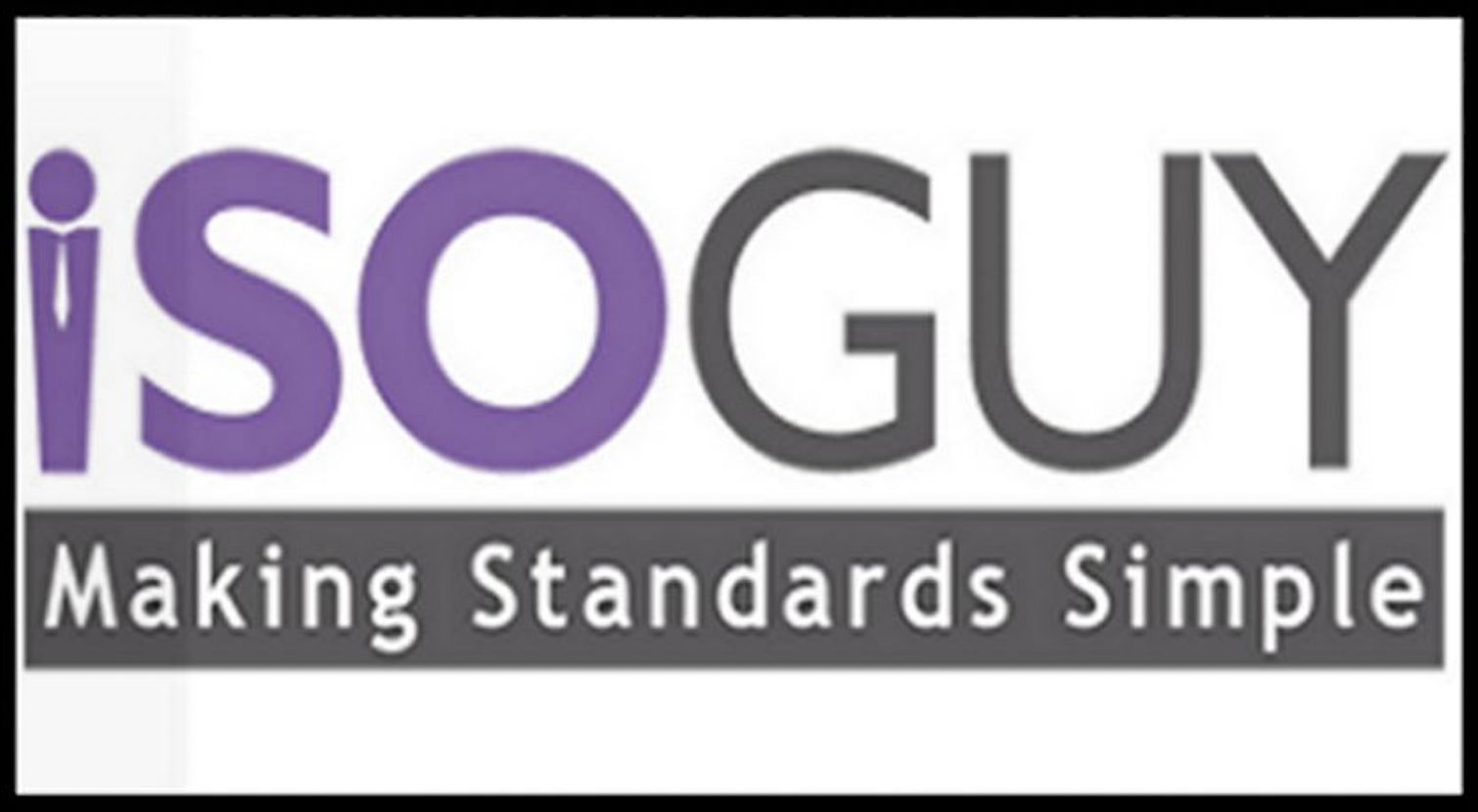 ABOUT GlastonBARRY
GlastonBARRY Tribute Festival was launched in 2013. 
The 2024 Festival will take place on Saturday 27th and Sunday 28th July 2024. 
Based in the picturesque Romilly Park,  in the seaside town of Barry. We welcome up to 7000 visitors a day to our fun, friendly and super entertaining tribute festival. Featuring some of the best tribute acts on the circuit in the UK. The festival offers two main stages (one inside the big top and one outside in the field), licensed bar and food court with a wide range of food and drink on offer, DJs, stalls and other activities.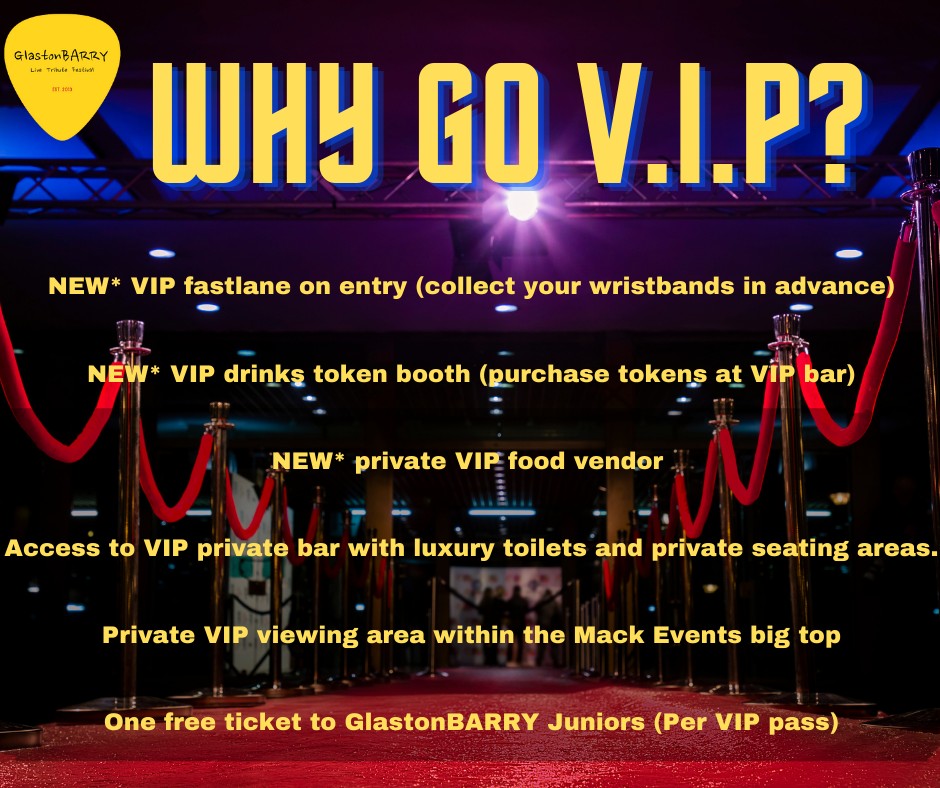 The VIP area is an exclusive area for VIP guests, this offers a private bar, private seating areas, separate drinks token booth, luxury toilets and a private VIP viewing area within the big top. You also get to enter the festival via the VIP fast-lane and skip the queues at the door, you ALSO get free entry to GlastonBARRY Juniors (Friday 28th) with every VIP ticket purchased. 
(Please Note - One VIP Ticket = One person free entry to GB Juniors - all other members of your party will require their own ticket)
For more information on the festival, how to get there and any other crucial details, please visit the FAQ page.
GlastonBARRY is an 18+ Only event, but if you're looking for a fun day out for the whole family please check out GlastonBARRY JUNIORS 
We hope to see you in the summer!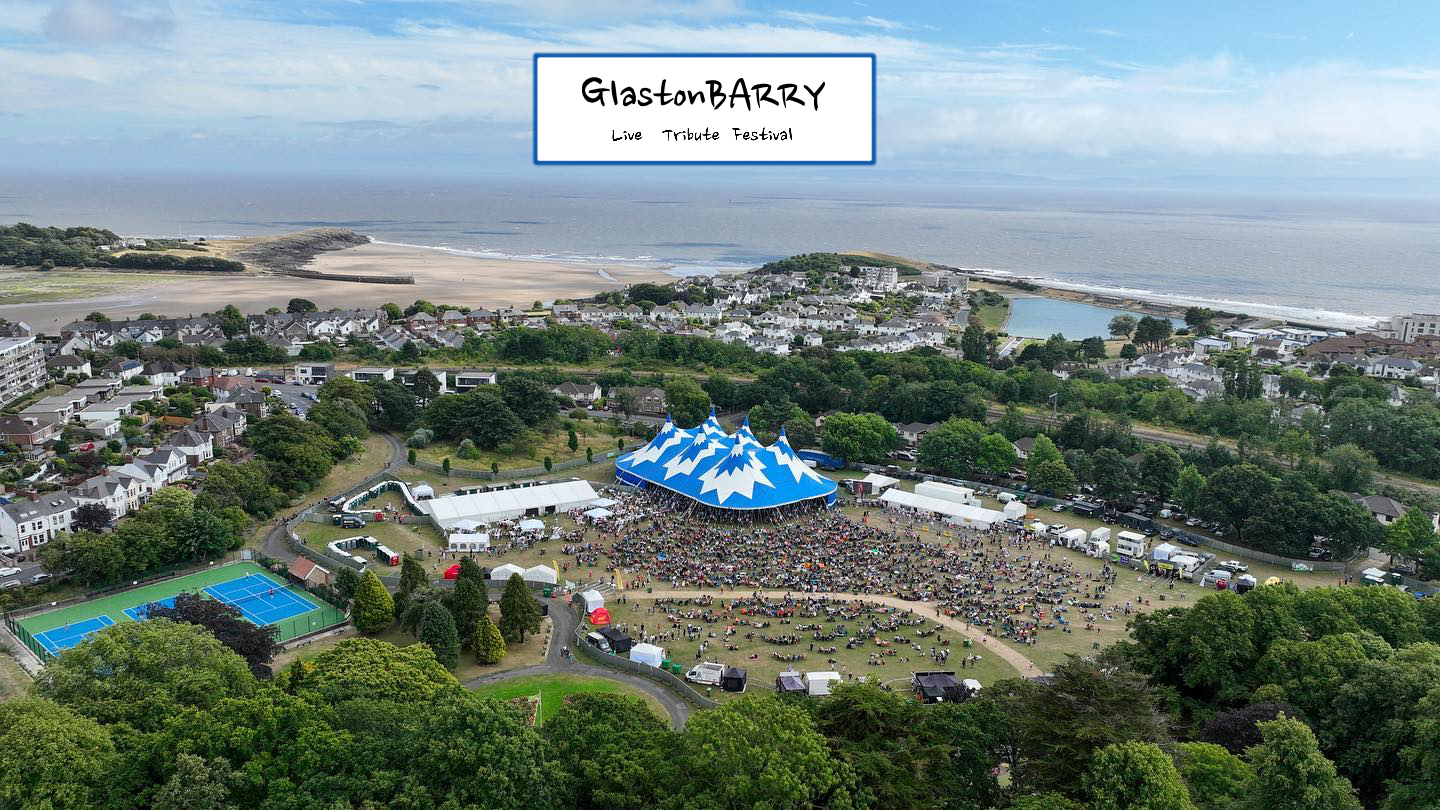 Testimonials 
"GlastonBARRY weekend gives the whole town of Barry a major cash injection. I lose count of the day visitors we receive over the GlastonBARRY week with all visitors singing the praises of the festival. The bars, hotels and restaurants are all full, and the taxi services are almost overwhelmed. You have done the whole town proud with your professionalism in the way you have made this event one of the biggest in the Vale. Well done." 
Marco Zeraschi - Marco's Cafe, Barry Island
"A very fun and exciting event! We love it!"
Jamie Roberts - Former Wales and British Lions Rugby Player
"GlastonBARRY has grown to be one of the biggest annual outdoor events in South Wales. It attracts tourists from all over the UK and beyond. It's always professionally run and great fun to attend." 
Sarah Jones, Vale Of Glamorgan Council
"I've attended this festival every year since it started in 2013, it gets bigger and better year after year, the bands are always amazing, there's a great atmosphere and everyone is so friendly. Keep up the good work! 
Joseph Francis - Local Resident